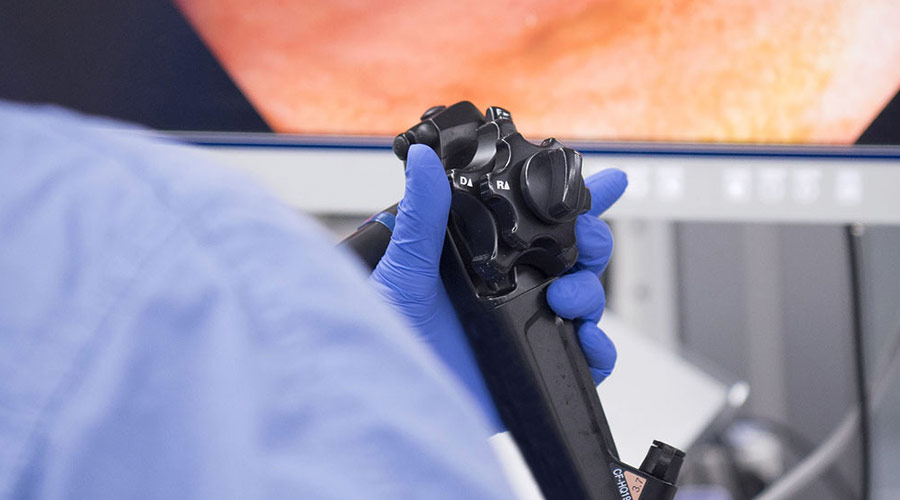 At Cleveland Clinic London, our gastroenterologists, interventional endoscopists and colorectal surgeons have extensive training and expertise in diagnostic and therapeutic endoscopy. You receive state-of-the-art tests and treatments from experts who are leaders and innovators in their fields.
How Does Endoscopy Work?
Endoscopy is a minimally invasive procedure we use to diagnose and treat a variety of digestive diseases. Our skilled experts use state-of-the-art-equipment to remove benign (noncancerous) growths such as polyps or early-stage cancers using endoscopy, so you don't need major surgery. We also treat patients with obesity and chronic acid reflux using this technique.
An endoscope is a thin tube with a video camera at the tip. Our experts insert an endoscope:
Into your mouth and down your throat to examine your upper GI tract: oesophagus, stomach and first part of the small intestine.
Into your anus to examine your lower GI tract: large intestine, colon, anus and rectum.
Endoscopy provides detailed images of various parts of the gastrointestinal tract that appear on a video monitor. Your doctor can look for abnormalities and perform minimally invasive treatments.
Most diagnostic endoscopic procedures are carried out as day cases, so you receive light sedation and go home the same day. The more complex interventional or therapeutic procedures are performed with deep sedation, so you stay overnight in the hospital.
Lower and Upper GI Endoscopy: Why Choose Cleveland Clinic London?
Highlights of our diagnostic and surgical endoscopy programme include:
Minimally invasive treatments: We use the latest endoscopic techniques to perform incisionless procedures that aren't widely available in the U.K. Our group of gastroenterologists were among the first in the country to pioneer endoscopic sleeve gastroplasty (ESG) for weight loss and transoral incisionless fundoplication (TIF) for acid reflux (heartburn). Both procedures are performed entirely through the mouth. We are one of the most experienced groups in Europe for these procedures.
Team approach: A range of consultants specialising in digestive diseases and disorders work together to review your case and treatment options. You receive a care plan built by a multidisciplinary team that may include gastroenterologists, colorectal surgeons, upper gastrointestinal surgeons and other experts. Our attentive nursing team continues to monitor your progress once you are discharged home.
Timely care: At Cleveland Clinic London, the innovative services you need are available without a wait. Endoscopists, radiologists and pathologists evaluate test results promptly and work with you to build the right care plan. We detect digestive disease earlier when treatment may be more effective.
Innovation and research: Our endoscopy team has an international reputation for academic innovation and research. We're at the forefront of advancements in endoscopy and are continually looking for newer, better ways to provide care.
Conditions We Diagnose and Treat
We use state-of-the-art endoscopic procedures to diagnose and treat a broad range of conditions, including:
Diseases of the liver, pancreas, gallbladder and bile ducts, including gallstones, biliary strictures, pancreatitis and complex hepato-pancreatico-biliary (HPB) disorders.
Gastrointestinal cancers, including cancers of the bile duct, colon, rectum, oesophagus, pancreas, liver and stomach.
Inflammatory bowel disease, including Crohn's disease and ulcerative colitis.
Pharyngeal pouches and Zenker's diverticulum.
Precancers, such as colon polyps (adenomas), pancreatic cysts, gastrointestinal stromal tumours (GISTS) and Barrett's neoplasia.
Reflux diseases, including gastro-oesophageal reflux disease (GORD), severe heartburn, Barrett's oesophagus and oesophageal strictures.
Our Endoscopic Tests and Treatments
Experienced gastroenterologists and surgeons perform the most advanced endoscopy procedures. Our services include:
Colonoscopy: This procedure examines the inside of your bowel, evaluating common gastrointestinal symptoms such as rectal bleeding, unexplained weight loss or changes in bowel habits.
Upper GI endoscopy: This procedure examines the gullet, stomach and duodenum to evaluate common gastrointestinal symptoms like heartburn and dyspepsia.
Video capsule endoscopy: You swallow a tiny capsule that contains a wireless camera ("pill cam"), which takes pictures of the inside of your bowel. We may use this to evaluate the small intestine or as an alternative to colonoscopy.
Endoscopic mucosal resection and endoscopic submucosal dissection: Our experts use minimally invasive endoscopic techniques to treat some early-stage gastric (stomach) and oesophageal cancers.
Endoscopic retrograde cholangiopancreatography (ERCP): Combining endoscopy and X-rays, ERCP diagnoses and treats problems affecting the liver, pancreas, gallbladder and bile ducts. We can also use ERCP, combined with other sophisticated equipment, to perform biopsies, break up gallstones and remove other bile duct blockages.
Endoscopic ultrasound (EUS): An EUS combines endoscopy and ultrasound to create images of the oesophagus, stomach, pancreas, gallbladder or small intestine.
We also perform:
Duodenal mucosal resurfacing: This novel endoscopic treatment rejuvenates the lining of the duodenum (first part of the small intestine). It may help people with metabolic diseases such as Type 2 diabetes and nonalcoholic fatty liver disease.
Endoscopic sleeve gastroplasty (ESG): ESG is a minimally invasive treatment for people with obesity. We perform the procedure entirely through the mouth and throat, so you don't have incisions in your skin.
Enteral and colorectal stenting: We insert a stent (hollow tube), via endoscopy, in your stomach or small bowel to create space where there is a blockage.
Functional luminal imaging probe (FLIP): This innovative tool measures changes to your oesophagus in real-time during an endoscopic procedure. It helps us deliver more precise, effective treatment for reflux, achalasia and gastroparesis. We are one of only a few centres in Europe using this advanced technology.
Gastric peroral endoscopic myotomy (G-POEM): We use endoscopy to loosen the muscle between the stomach and small intestine, which may help relieve symptoms of gastroparesis.
Peroral endoscopic myotomy (POEM): This minimally invasive procedure cuts muscles in the oesophagus for patients who have achalasia (a swallowing disorder).
Radiofrequency ablation for Barrett's oesophagus: We use endoscopy and heat energy to destroy diseased tissue in the oesophagus.
Transoral incisionless fundoplication (TIF): This endoscopic procedure treats acid reflux and heartburn related to GORD. Gastroenterologists recreate the valve that prevents stomach acid from entering the oesophagus.
Zenker's diverticulotomy: We offer an endoscopic treatment for patients with pharyngeal pouches, performed as a day-case procedure.
Learn More
Contact us or call +44 20 3423 7500 for more information about our endoscopy services.