Brian Donley, MD | Chief Executive Officer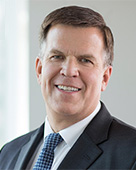 Brian Donley, MD was appointed CEO of Cleveland Clinic London in February 2018. He began his career as an orthopaedic surgeon at Cleveland Clinic in 1996, and has since held numerous leadership positions within the Clinic, including President of Lutheran Hospital, President of the Cleveland Clinic Regional Hospitals and Family Health Centers, and latterly as Chief of the Clinical Enterprise. Dr Donley also teaches at the Cleveland Clinic Lerner College of Medicine, where he is Professor of Surgery and is a Fellow of the Royal College of Surgeons of England. He graduated from the University of Notre Dame, and gained his medical degree at the University of Michigan.
Tommaso Falcone, MD | Chief of Staff, Chief Academic Officer and Medical Director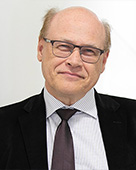 Tommaso Falcone, MD is Chief of Staff, Chief Academic Officer and Medical Director at Cleveland Clinic London. He has over 25 years' experience with Cleveland Clinic, as Professor of Obstetrics, Gynecology and Reproductive Biology at the Cleveland Clinic Lerner College of Medicine. Dr Falcone is certified by the American Board of Obstetrics and Gynecology in general obstetrics and gynecology and reproductive endocrinology and infertility, and by the Royal College of Physicians and Surgeons of Canada. He is also a Fellow of the Royal College of Obstetricians and Gynaecologists of England ad eundem. Dr Falcone was the senior author on the first publication in the world on gynecologic robot surgery and a member of the team that performed the first uterus transplant in the US.
Michael Herb | Chief Financial Officer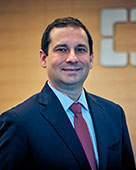 Mike Herb is Chief Financial Officer at Cleveland Clinic London, responsible for delivering professional service operations across the financial planning, revenue cycle, finance and accounting functions. He joined Cleveland Clinic in 2014, and most recently served as Senior Director of International Finance. Prior to joining Cleveland Clinic, Mike worked as a consultant in the Healthcare Practice at Deloitte Consulting, advising clients on complex performance improvement and finance transformation programs.
Angela Rossi | Chief Human Resources Officer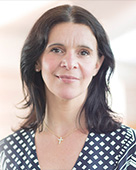 Angela Rossi joined Cleveland Clinic London in 2018 and is accountable for the Human Resources function, providing strategic direction and vision for our People agenda with a dedicated focus on culture and leadership. She has over 20 years of extensive experience within the private healthcare industry. At the international healthcare company Bupa, Angela held both UK focused and global leadership positions. Immediately prior to joining Cleveland Clinic London, Angela was UK Director of Human Resources at Schoen Clinic, where she oversaw the development and execution of its international human resources strategy when it entered the UK from its home market of Germany, opening a specialist hospital and clinic in central London plus the acquisition of facilities nationally.
Will Rowberry | Chief Commercial Officer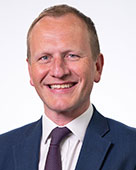 Will Rowberry is responsible for the commercial functions of Cleveland Clinic London including domestic and international payer relationships, marketing, communications and stakeholder relations. Will has extensive experience working across the healthcare industry in both the private and public sectors. Prior to joining Cleveland Clinic London, he was a Director in the Healthcare and Life Sciences team at the Brunswick Group, was formerly Head of Corporate Finance at Circle Health and is a Fellow of the Institute of Chartered Accountants in England and Wales.
Gareth Sherlock | Chief Information Officer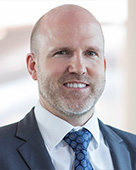 Gareth Sherlock is the Chief Information Officer at Cleveland Clinic London. He has more than 25 years of experience working in the healthcare sector, managing hospital technology operations and delivering complex transformation projects across Australia, the US, UK, Europe and the Middle East. Prior to joining Cleveland Clinic London, Gareth was Chief Information Officer at Cleveland Clinic Abu Dhabi. He has also served as an executive consultant for Accenture in Australia and the UK.
Deborah Small, DNP | Chief Nursing Officer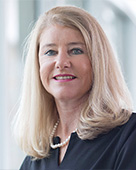 Deborah Small, DNP is responsible for establishing practice standards and nursing strategy for Cleveland Clinic London's nursing operations. With 40 years nursing experience, she is an intuitive leader who focuses on human relations, advocacy and effective leadership. She has held numerous leadership and academic roles, successfully developing, organising and driving diverse healthcare teams to achieve success. Ms. Small is known for building dynamic professional practice models, promoting care excellence and unifying the voice of nursing. Prior to London Deborah was most recently the CNO of Cleveland Clinical Fairview Hospital and Interim ACNO of Clinical Practice and Quality, Cleveland Clinic Health System.
Abigail Stapleton | Executive Director of International Strategy
Abigail Stapleton is responsible for the development and implementation of strategic initiatives in the UK, with accountability for the strategy, business development, projects and analytics teams. Alongside her London Executive role, she is a member of the Enterprise Strategy Leadership team, involved in the development of international growth initiatives for Cleveland Clinic. Abigail has over 15 years' experience across the private and public healthcare sectors. Prior to joining Cleveland Clinic London she was Executive Director of Strategy & Commercial and a Board member of Kings College Hospital Trust. She also worked at Bupa for several years across its UK businesses.