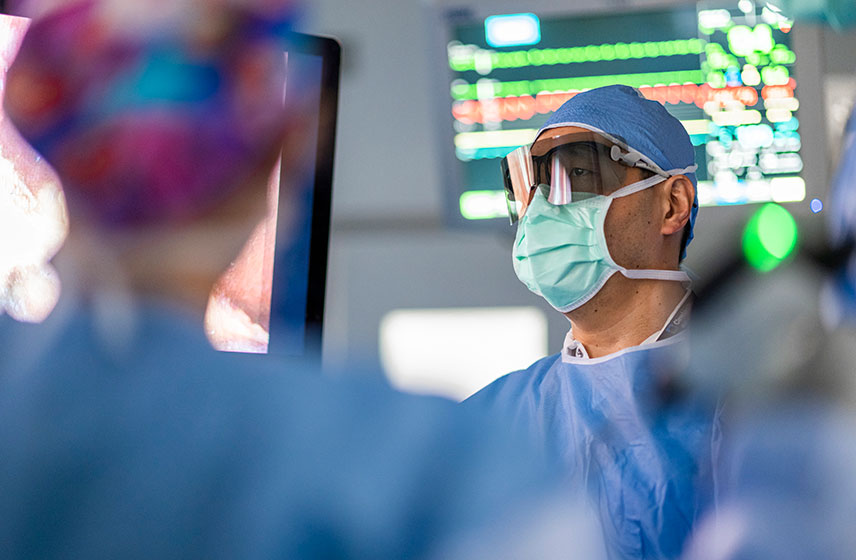 Cleveland Clinic London is home to some of the U.K.'s leading hepato-pancreatico-biliary (HPB) surgeons, specialising in diseases of the liver, pancreas, gallbladder and bile ducts. We offer open, laparoscopic and endoscopic procedures for a broad range of common and complex conditions, including gallstones, cancer, pancreatitis and injuries to the liver or pancreas.
Liver and Pancreas Surgery: Why Choose Cleveland Clinic London?
Highlights of our HPB surgery programme include:
Team approach: Surgeons in multiple specialties meet regularly to discuss your case. You receive a carefully designed treatment plan with input from HPB surgeons, gastroenterologists, colorectal surgeons, general surgeons, surgical oncologists and other experts.
Dedicated HPB endoscopy team: Our team includes HPB surgeons who focus on endoscopy. We use this minimally invasive technique to diagnose and treat many diseases. You receive the care you need without major surgery, so you get back to living your life sooner.
Surgical expertise: Our surgeons specialise in challenging, complex procedures, including the Whipple procedure (pancreaticoduodenectomy) for pancreatic cancer and liver resection for liver, bile duct or gallbladder cancer. This expertise means we can often offer surgeries that you may not find at other institutions. If you've been told you're out of treatment options, we can help.
Advanced robotic surgery: At Cleveland Clinic London, we use the da Vinci® surgical system to perform robot-assisted surgery with exceptional precision. We use robotic surgery for liver cancer, pancreatic cancer and gallbladder removal.
Liver, Pancreas and Biliary Conditions We Treat
Liver conditions we treat include:
Pancreas conditions we treat include:
Acute and chronic pancreatitis.
Intraductal papillary mucinous neoplasm (IPMN).
Biliary (bile duct and gallbladder) conditions we treat include:
Our Treatments and Services
We offer a wide range of surgeries for the liver, pancreas, gallbladder and bile ducts. Whenever possible, we perform your procedure using minimally invasive techniques. You recover faster with less pain and a lower risk of complications.
Our liver surgeries include:
Liver resection: We specialise in open, laparoscopic and robotic surgery for liver cancer and benign liver growths. Surgeons perform major resections for complex metastatic tumours.
Radiofrequency ablation (RFA): We may treat small liver tumours with RFA, which uses heat to destroy cancerous tissue.
Our pancreas surgeries include:
Pancreatic resection: We may perform distal pancreatectomy (removing the tail of the pancreas and possibly part of the pancreas body or spleen) or total pancreatectomy (removing the entire pancreas, gallbladder, spleen and part of the stomach and small intestine).
Vascular resections: We remove or reconstruct blood vessels for pancreatic cancer that has invaded major veins or arteries. This highly complex technique is not widely available.
Pancreatic necrosectomy: We remove pancreatic necrosis (dead pancreatic tissue), a serious complication of acute pancreatitis.
Whipple procedure: During this complex operation, surgeons remove the head of the pancreas, the first portion of the small intestine and part of the bile duct and gallbladder. Surgeons attach the small intestine to the remaining bile duct and pancreas to preserve digestive function.
Our bile duct and gallbladder surgeries include:
Bile duct repair: We treat bile duct injuries, leaks and blockages, which usually result from other surgeries.
Laparoscopic cholecystectomy: We perform minimally invasive gallbladder removal for gallstones, cancer, pancreatitis or cholecystitis.
Learn More
Contact us or call +44 20 3423 7500 for more information about HPB surgery services.